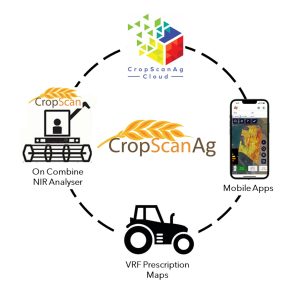 MEASURE
MANAGE
GROW
A Complete Solution for Grain Production and Grain Harvesting
CropScanAg offers the CropScan 3300H On Combine Grain Analyser and CropScanAg N-GAUGE Mobile Apps. Together these technologies provide a new and revolutionary means of developing Variable Rate Fertilization Prescription maps and Grain Logistics management tools for grain farmers directly to their smart phone or tablet.
The CropScan 3300H measures Nitrogen in the form of Protein in grains and oilseeds in real-time as they are harvested in the field. The CropScan 3300H also provides accurate Moisture measurements in the field and allow farmers to Start Earlier and Finish Later to increase harvest efficiency by 5-10%

The CropScanAg N-GAUGE Nutrient Manager App provides farmers with the complete solution for optimizing Yield (Quantity) and Protein/Oil (Quality) across fields.

The CropScanAg N-GAUGE Grain Logistics App provides real-time management of the movement, storage and blending of grain from the field to the silo.