MEASURE    
MANAGE
GROW
CropScanAg Solutions offers the CropScan 3300H On Combine Grain Analyser and CropScanAg Solutions Nutrient Management System. Together these technologies provide a new and revolutionary means of developing Variable Rate Fertilization Applications for grain farmers. Based on measuring Protein in grains and oilseeds as they are harvested in the field, these technologies provide farmers with the following benefits: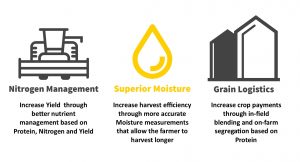 CropScanAg Cloud Data Storage
Use the Cloud Service Log In button at the top of the Home page to register for the CropScanAg Cloud and to log in to your CropScanAg Cloud account. Access your data anytime and anywhere.