The CropS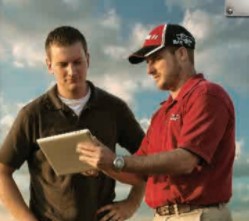 can technology supplied by Next Instruments has been a great tool for Farmers Centre WA and its customers. They have been great to deal with over the last 5 years of our partnership.
We are increasing the volume of units in our region every year on Case IH Combines, and finding that the end users are gaining major benefits by being able to accurately monitor their grain.
The data we receive from the CropScan tool allows our users to compare the correlation between the quality of grain vs the quantity of grain, all mapped out across each field. This information is what the farmers and their agronomist use to create variable rate maps. It also allows us to see real time measurements of oil, protein and moisture displayed on screen. It also gives us the ability of being able to monitor grain storage options, totals and averages all in the one place.
We see this as a valuable asset that we will be able to use in the future for many years to come, and look forward to growing our relationship with Next Instruments.
Russell Creedon   – Precision Farming Specialist    Famers Centre, Esperance, Western Australia